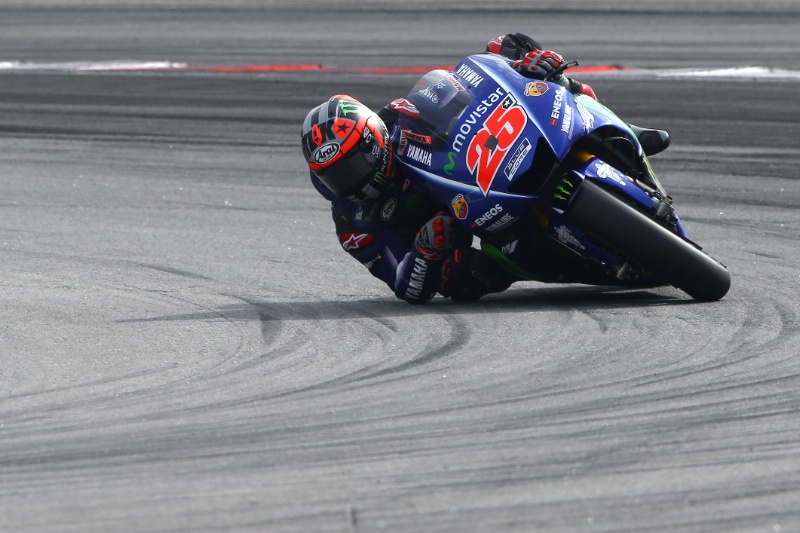 Sepang MotoGP test times - Wednesday (Final)
The first official MotoGP test of 2017 has concluded with Maverick Vinales fastest at Sepang in Malaysia.
Wednesday testing again took place from 10am to 6pm. A brief rain shower arrived at 2:30pm - sunshine soon returned, but the slow-drying track meant riders were reluctant to venture back out.
However, the final hour and a half saw a flurry of activity and new personal best lap times.
Day 2 leader Andrea Iannone lost the front of his Suzuki at Turn 1 early in the day, then later at Turn 15. Pol Espargaro, Hector Barbera and Aleix Espargaro also fell, without harm.
Tito Rabat was absent due to injuries in a Tuesday highside, but day one pace setter Casey Stoner was back on track for Ducati.
Vinales and team-mate Valentino Rossi spent substantial time with the new Yamaha fairing, which features covered winglets on either side.
The next official test will take place at Phillip Island, Australia from February 15-17.
1.M.ViñalesMovistar
Yamaha
MotoGP (YZR-M1)1.59.368
2.M.Marquez
Repsol
Honda Team (RC213V)1.59.506
3.A.Dovizioso
Ducati
Team (Desmo16 GP17)1.59.553
4.D.PedrosaESP
Repsol
Honda Team (RC213V)1.59.578
5.V.RossiMovistar
Yamaha
MotoGP (YZR-M1)1.59.589
6.A.BautistaAspar MotoGP Team (Desmo16 GP16)1.59.628
7.C.Stoner
Ducati
Test Rider (Desmo16 GP17)1.59.639
8.C.CrutchlowLCR Honda (RC213V)1.59.728
9.J.Lorenzo
Ducati
Team (Desmo16 GP17)1.59.767
10.J.ZarcoMonster Yamaha Tech 3 (YZR-M1)*1.59.772
11.A.IannoneTeam
Suzuki
Ecstar (GSX-RR)2.0.045
12.A.RinsTeam
Suzuki
Ecstar (GSX-RR)*2.0.057
13.A.EspargaroFactory Aprilia Gresini (RS-GP)2.0.108
14.D.PetrucciOcto Pramac Yakhnich (Desmo16 GP17)2.0.310
15.J.FolgerMonster Yamaha Tech 3 (YZR-M1)*2.0.312
16.J.MillerEstrella Galicia 0,0 Marc VDS (RC213V)2.0.439
17.K.AbrahamAspar MotoGP Team (Desmo16 GP15)2.0.445
18.H.BarberaAvintia Racing (Desmo16 GP16)2.0.537
19.S.ReddingOcto Pramac Yakhnich (Desmo16 GP16)2.0.645
20.L.Baz Avintia Racing (Desmo16 GP15)2.0.873
21.B.SmithRed Bull KTM Factory Racing (RC16)2.1.338
22.S.LowesFactory Aprilia Gresini (RS-GP)*2.1.341
23.P.EspargaroRed Bull KTM Factory Racing (RC16)2.1.506
24.Katsuyuki NakasugaYamaha Test Rider (YZR-M1) 2.1.658
25.Takuya TsudaSuzuki Test Rider (GSX-RR)2.2.769
* Rookie
Fastest Day 2 time:
Andrea Iannone ITA Suzuki 1.59.452
Fastest Day 1 time:
Casey Stoner AUS Ducati 1.59.680
2016 Malaysian MotoGP:
Best lap:
Maverick Vinales SPA Suzuki 1.59.947(FP3)
Fastest race lap:
Andrea Dovizioso SPA Ducati 2.11.950(wet)
Official Sepang MotoGP records:
Best lap:
Dani Pedrosa SPA Honda 1.59.053(2015)
Fastest race lap:
Jorge Lorenzo SPA Yamaha 2.0.606(2015)
Unofficial Sepang MotoGP record:
Marc Marquez SPA Honda 1.58.867(2015 testing)