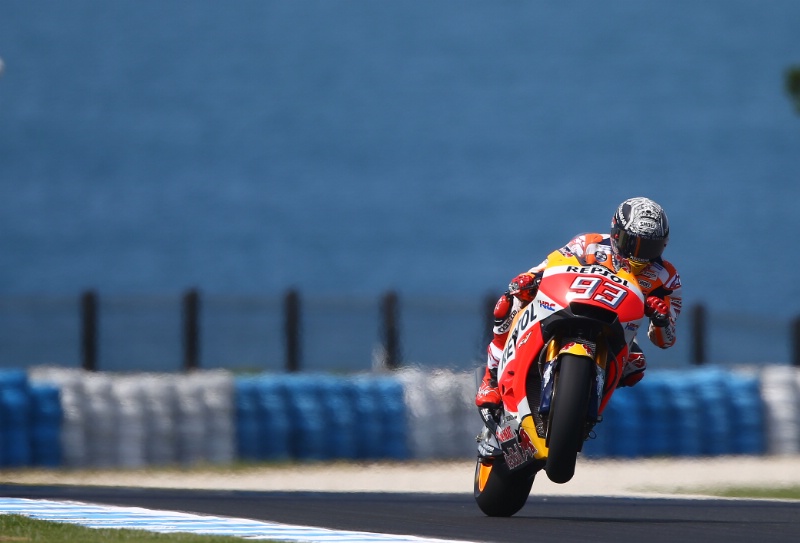 Phillip island Moto-GP test Wednesday(Feb-15-2017)
The second official MotoGP test of 2017 began at Phillip Island in Australia on Wednesday.
Tito Rabat is absent due to injuries at Sepang, but the rest of the 2017 grid are present.
Testing took place from 9:45am to 5:45pm. Maverick Vinales led the early stages before world champion Marc Marquez moved ahead.
The Repsol Honda rider (reportedly using the latest RC213V engine on both his bikes) then improved his time, to pull almost half-a-second clear of Vinales.
That advantage remained unchanged until Suzuki's Andrea Iannone and then countryman Valentino Rossi (Yamaha) took over second place in the final minutes.
Nevertheless, Marquez held on to claim the end-of-day top spot for the first time this year.
Earlier, the red flags had appeared after three hours in order for repairs to the tyre wall at Turn 6, following falls for Sam Lowes and Alvaro Bautista. An earlier interruption was for wildlife on track!
Scott Redding, Hector Barbera and Pol Espargaro also fell on Wednesday, alongside another tumble for Lowes.
The track action continues on Thursday and Friday.
1.M.MarquezRepsol
Honda
Team (RC213V)1.29.497[53/68]
2.V.RossiMovistar
Yamaha
MotoGP (YZR-M1)1.29.683[76/77]
3.A.IannoneTeam
Suzuki
Ecstar (GSX-RR)1.29.926[68/70]
4.M.ViñalesMovistar
Yamaha
MotoGP (YZR-M1)1.29.989[26/64]
5.C.CrutchlowLCR Honda (RC213V)1.30.065[61/61]
6.Petrucci Octo Pramac Yakhnich (Desmo16 GP17)1.30.262[87/87]
7.D.PedrosaRepsol
Honda
Team (RC213V)1.30.281[13/55]
8.A.Dovizioso
Ducati
Team (Desmo16 GP17)1.30.410[16/64]
9.J.MillerEstrella Galicia 0,0 Marc VDS (RC213V)1.30.426[80/82]
10.J.FolgerMonster Yamaha Tech 3 (YZR-M1)*1.30.578[30/62]
11.J.Lorenzo
Ducati
Team (Desmo16 GP17)1.30.631[33/61]
12.Bautista Aspar MotoGP Team (Desmo16 GP16)1.30.770[24/68]
13.H.BarberaAvintia Racing (Desmo16 GP16)1.30.771[7/51]
14.A.EspargaroFactory Aprilia Gresini (RS-GP)1.30.802[26/28]
15.J.ZarcoMonster Yamaha Tech 3 (YZR-M1)*1.30.867[77/80]
16.Abraham Aspar MotoGP Team (Desmo16 GP15)1.31.179[17/61]
17.Espargaro Red Bull KTM Factory Racing (RC16)1.31.200[54/59]
18.L.BazAvintia Racing (Desmo16 GP15)1.31.249[56/60]
19.A.RinsTeam
Suzuki
Ecstar (GSX-RR)*1.31.432[66/66]
20.Redding Pramac Yakhnich (Desmo16 GP16)1.31.755[33/59]
21.S.LowesFactory Aprilia Gresini (RS-GP)*1.32.307[15/35]
22.B.SmithRed Bull KTM Factory Racing (RC16)1.32.690[43/57]
* Rookie
2016 Australian MotoGP:
Best lap:
Marc Marquez SPA Honda 1.30.189(Qualifying 2)
Fastest race lap:
Cal Crutchlow GBR Honda 1.29.494
Official Phillip Island MotoGP records:
Best lap:
Jorge Lorenzo SPA Yamaha 1.27.899(2013)
Fastest race lap:
Marc Marquez SPA Honda 1.28.108(2013)