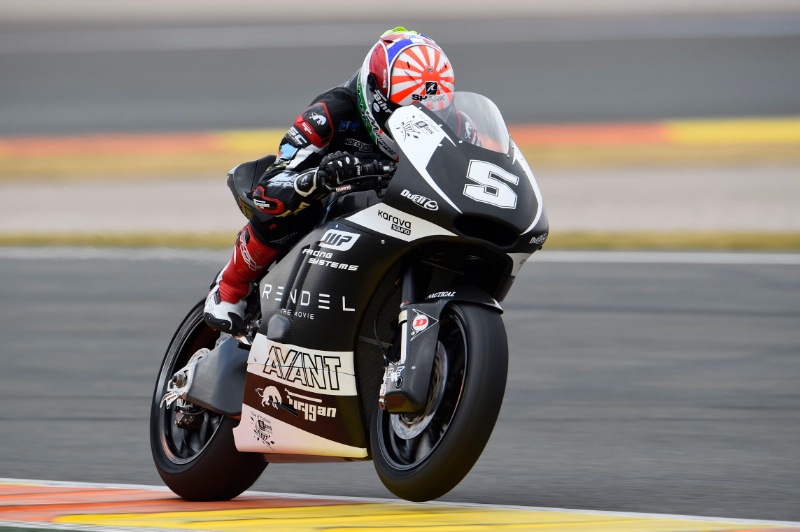 Valencia Moto2 test times - Thursday/Combined 12 February 2015
Lap times after the third and final day of the opening 2015 Moto2 test, at Valencia.
Bad weather (plus an oil spill) again restricts track time, with only day one fully dry. The next pre-season test will be held at Jerez next week...
Day 3 Times
1. Hafizh Syahrin MAL Petronas Raceline Malaysia(Kalex)1.46.971
2. Florian Alt GER Octo Ioda Racing Team(Suter) 1.47.484
3. Mika Kallio FIN Italtrans Racing Team(Kalex)1.47.887
4. Xavier Simeon BEL Federal Oil Gresini Moto2(Kalex)1.47.935
5. T.Nakagami JPN Idemitsu Honda Team Asia(Kalex)1.48.094
6. Marcel Schrotter GER Tech 3(Tech 3)1.48.137
7. Julian Simon SPA QMMF Racing Team(Speed Up)1.48.278
8. Johann Zarco FRA Ajo Motorsport(Kalex)1.48.864
9. Azlan Shah MAL Idemitsu Honda Team Asia(Kalex)1.49.268
10. Anthony West AUS QMMF Racing Team(Speed Up)1.49.853
11. Simone Corsi ITA Forward Racing Team(Kalex)1.49.878
12. Lorenzo BaldassarriITAForward Racing Team(Kalex)1.51.075
13. Ricky Cardus SPA Tech 3(Tech 3)1.51.145
14. Louis Rossi FRA Tasca Racing Scuderia Moto2(Tech 3)1.51.207
15. D.Aegerter SWI Technomag Racing Interwetten(Kalex)1.51.687
16. T.Warokorn THA APH PTT The Pizza SAG(Kalex)1.54.309
Combined Times (all Day 1)
1. Johann Zarco FRA Ajo Motorsport(Kalex)1.34.754
2. Sam Lowes GBR Speed Up Racing(Speed Up)1.35.106
3. Tito Rabat SPA Estrella Galicia 0.0 Marc VDS(Kalex)1.35.145
4. T.Luthi SWI Derendinger Racing Interwetten(Kalex)1.35.194
5. Xavier Simeon BEL Federal Oil Gresini Moto2(Kalex)1.35.264
6. Alex Rins SPA Paginas Amarillas HP 40(Kalex) 1.35.630
7. Luis Salom SPAPaginas Amarillas HP 40(Kalex)1.35.687
8. Franco Morbidelli ITA Italtrans Racing Team(Kalex)1.35.813
9. Jonas Folger GER AGR Team(Kalex)1.35.871
10. Simone Corsi ITA Forward Racing Team(Kalex)1.35.895
11. Marcel Schrotter GER Tech 3(Tech 3)1.35.920
12. Anthony West AUS QMMF Racing Team(Speed Up)1.36.017
13. Julian Simon SPA QMMF Racing Team(Speed Up)1.36.130
14. D.Aegerter SWI Technomag Racing Interwetten(Kalex)1.36.209
15. Mika Kallio FIN Italtrans Racing Team(Kalex)1.36.409
16. Hafizh Syahrin MAL Petronas Raceline Malaysia(Kalex)1.36.411
17. Lorenzo Baldassarri ITAForward Racing Team(Kalex)1.36.435
18. T.Nakagami JPN Idemitsu Honda Team Asia(Kalex)1.36.456
19. Sandro Cortese GER Dynavolt Intact GP(Kalex)1.36.496
20. Azlan Shah MAL Idemitsu Honda Team Asia(Kalex)1.36.743
21. Axel Pons SPA AGR Team(Kalex)1.36.791
22. T.Warokorn THA APH PTT The Pizza SAG(Kalex)1.37.302
23. Louis Rossi FRA Tasca Racing Scuderia Moto2(Tech 3)1.37.430
24. R.Mulhauser Technomag Racing Interwetten(Kalex)1.37.469
25. R.Cardus SPA Tech 3(Tech 3)1.37.492
26. Alex Marquez SPA Estrella Galicia Marc VDS(Kalex)1.37.773
27. Randy Krummenacher SWI JIR Moto2(Kalex)1.38.121
28. Jesko Raffin SWI Sport-Millions-Ewwe-SAG(Kalex)1.38.252
29. Florian Alt GER Octo Ioda Racing Team(Suter)1.39.518
Fastest Day 2 time:
Hafizh Syahrin MAL Kalex 1.47.666(wet)
Fastest Day 1 time:
Johann Zarco FRA Kalex 1.34.754
Official Valencia Moto2 records:
Best lap:
Pol Espargaro SPA Kalex 1.34.957(2013)
Fastest race lap:
Thomas Luthi SWI Suter 1.35.312(2014)