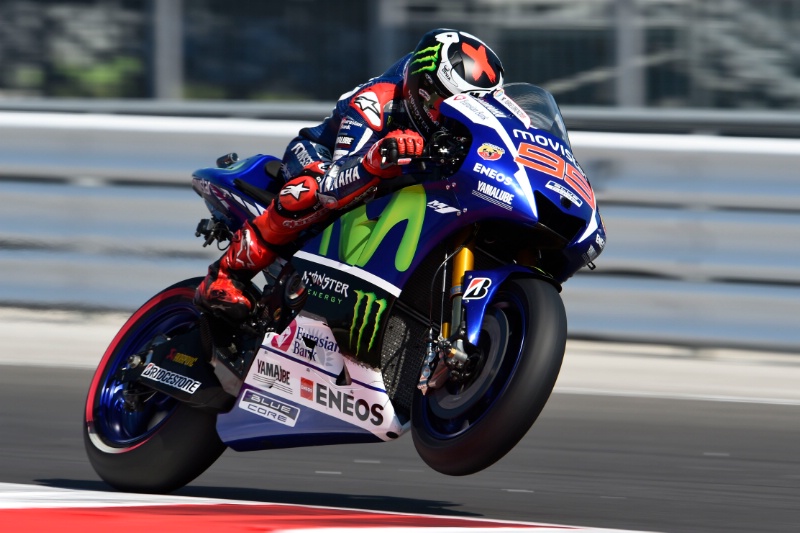 MotoGP Misano - Free Practice (3) Results.Sep-11-15.
Jorge Lorenzo smashes his own new lap record from Friday, no wings on his Yamaha this morning.
Misano has been resurfaced for the 2015 event.
Danilo Petrucci is competing with GP14.2 machinery for the first time this weekend, while Ducati test rider Michele Pirro is making his second wild-card appearance of the season.
The top ten riders after FP3 (combined times) receive direct access to the second and final part of this afternoon's qualifying session...
FP3:
1. Jorge Lorenzo ESPMovistar Yamaha MotoGP (YZR-M1)1.32.192
2. Marc Marquez ESPRepsol Honda Team (RC213V)1.32.421
3. Valentino Rossi ITAMovistar Yamaha MotoGP (YZR-M1)1.32.793
4. Andrea Dovizioso ITADucati Team (Desmosedici GP15)1.32.802
5. Dani Pedrosa ESPRepsol Honda Team (RC213V)1.32.855
6. Michele Pirro ITADucati Team (Desmosedici GP15)1.32.930
7. Bradley Smith GBRMonster Yamaha Tech 3 (YZR-M1)1.32.960
8. Andrea Iannone ITADucati Team (Desmosedici GP15)1.32.960
9. Pol Espargaro ESPMonster Yamaha Tech 3 (YZR-M1)1.33.012
10. Danilo Petrucci Octo Pramac R.(Desmosedici GP14.2)1.33.013
11. Cal Crutchlow GBRLCR Honda (RC213V)1.33.160
12. Aleix Espargaro ESPTeam Suzuki Ecstar (GSX-RR) 1.33.195
13. Maverick Viñales ESPTeam Suzuki Ecstar (GSX-RR)*1.33.245
14. Scott Redding Estrella Galicia 0,0 Marc VDS (RC213V)1.33.335
15. Y.HernandezOcto Pramac R.(Desmosedici GP14.2)1.34.172
16. Hector Barbera Avintia R.(Desmosedici GP14 Open)1.34.194
17. Loris Baz FRAForward Racing (Forward Yamaha)*1.34.265
18. Alvaro Bautista ESPFactory Aprilia Gresini (RS-GP)1.34.337
19. Nicky Hayden USAAspar MotoGP Team (RC213V-RS)1.34.430
20. Stefan Bradl GERFactory Aprilia Gresini (RS-GP)1.34.434
21. Jack Miller AUSLCR Honda (RC213V-RS)*1.34.497
22. Mike Di Meglio Avintia R.(Desmosedici GP14 Open)1.34.548
23. Eugene Laverty Aspar MotoGP Team (RC213V-RS)*1.35.441
24. Alex De Angelis RSME-Motion IodaRacing (ART)1.35.791
25. Karel Abraham CZEAB Motoracing (RC213V-RS)1.36.016
26. Claudio Corti ITAForward Racing (Forward Yamaha)1.36.587
Riders going directly to Qualifying 2 - Top 10 Combined Practice Times:
1. Jorge Lorenzo ESPMovistar Yamaha MotoGP (YZR-M1)
2. Marc Marquez ESPRepsol Honda Team (RC213V)
3. Valentino Rossi ITAMovistar Yamaha MotoGP (YZR-M1)
4. Andrea Dovizioso ITADucati Team (Desmosedici GP15)
5. Dani Pedrosa ESPRepsol Honda Team (RC213V)
6. Michele Pirro ITADucati Test Rider (Desmosedici)
7. Bradley Smith GBRMonster Yamaha Tech 3 (YZR-M1)
8. Andrea Iannone ITADucati Team (Desmosedici GP15)
9. Pol Espargaro ESPMonster Yamaha Tech 3 (YZR-M1)
10. Danilo Petrucci ITAPramac Racing (Desmosedici GP14.2)